Israeli Cooking Class by Chef David Shushan
IWA Modena is excited to host a "Cooking to Fight Cancer" online charity events series. Join us and help IWA Modena collect funds for Il Cesto di Ciliege's big fundraising project 2021: the purchase of a much needed, highly advanced prognostic device for the Policlinico of Modena! This machine, known as Contrast Enhanced Spectral Mammography (CESM), is useful when diagnosing breast cancer and planning related surgical procedures.
Israeli Cooking Class by Chef David Shushan: November 21, 2020 at 18:00 on Zoom
(The lesson will take place in Italian and English.)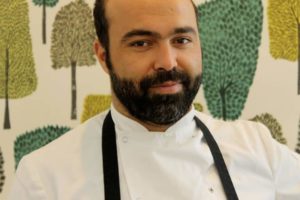 Participate live at David's online cooking class or download an "on demand" video of the lesson anytime you want. You will receive a list of ingredients and preparation instructions ahead of time, so you can cook along. During the class you will be able to ask questions via the chat function and David will answer them as he cooks with us.
Born and raised in Jaffa, Israel to a family of Moroccan origins. In Tel Aviv David worked in many of the top and unique restaurants and took part of the on growing new Israeli cuisine. Since 2013 he lives in Italy where he worked with Chefs as Vittorio Fusari in Fraciacorta and collaborated with the local SlowFood branch in different restaurants and projects using the local materials in his own dishes.
During this online cooking class, we will prepare the following dishes:
Grilled white fish meatballs
Lemon scented herbs (or spinach) with toasted almonds
Tabùle salad
Tahini and yogurt sauce
How can you purchase your ticket for the cooking class with David Shushan?
You can purchase your ticket for the first online cooking class with David Shushan by signing up on Zoom and paying a donation fee of 15 Euros. Here is the link: Sign-Up on Zoom.
Cooking to fight cancer – our online fundraising event series for Il Cesto di Ciliege
In total, over the next month, there will be 4 online cooking classes of about 1.5 hours each, which you can join either live or receive the video after the event. All four chefs have generously volunteered their time for these extraordinary events which means that all proceeds go directly to Il Cesto di Ciliege (excluding payment fees). Thank you so much to all these great chefs to help us fight breast cancer right here in Modena:
Sofia Morales from Gastronomia (A)tipica: Mexican Cooking Class (October 25, 2020 at 18:00)
Luca Marchini from Erba del Re: Italian Cooking Class (November 6, 2020 at 18:00)
Jess Rosval from Massimo Bottura's Osteria Francescana: International Cooking Class (November 15, 2020 at 18:00)
David Shushan: Israeli Cooking Class (November 21, 2020 at 18:00)
Keep following us on our social media channels to stay up to date on all of our events: Facebook and Instagram.
You don't like cooking but want to help? Please do!
If you don't like online cooking courses, but want to help fight breast cancer right here in Modena, please consider making a donation instead. You can do so on our GoFundMe page.
Please also visit our dedicated website to find out about further fundraising opportunities and learn all the details about this new partnership between IWA Modena and Il Cesto di Ciliege: Together against Breast Cancer.