Special Offer for IWA Modena Members: Cooking to Fight Breast Cancer Series
IWA Modena is excited to host a "Cooking to Fight Cancer" online charity events series: 4 unique online cooking classes, starting on October 25, 2020, with Sofia Morales! Join us and help IWA Modena collect funds for Il Cesto di Ciliege's big fundraising project 2021: the purchase of a much needed, highly advanced prognostic device for the Policlinico of Modena! This machine, known as Contrast Enhanced Spectral Mammography (CESM), is useful when diagnosing breast cancer and planning related surgical procedures.
As an exclusive IWA Modena benefit, members have the possibility of paying a one-time donation of only 40 Euros (instead of 15 EUR for each single event) that will allow you to join live or download all 4 online cooking events. Please register at the bottom of this page if you want to take advantage of this offer. If you prefer to purchase one course at a time, please follow the link under each course description instead.
Courses of the Cooking to Fight Cancer Series:
Mexican Cooking Class by Chef Sofia Morales: Sunday, October 25, 2020 at 18:00
(The lesson will take place mainly in English, but important cooking instructions will be provided in Italian as well.)
Sofia is a Mexican chef with more than 10 years of experience working in top-ranked restaurants all around the world. Not only has she obtained a Masters in Gastronomy from the University of Gastronomic Sciences in Pollenzo, but she also participated in the Netflix culinary documentary, "Chef's Table" in 2015! Her exciting journey started as a Chef Patisserie with Restaurante Martin Berasategui (3-Star Michelin restaurant) in Spain, and continued in New York City, first at Alex Stupak's Empellon Cocina and later as Chef de Partie at Del Posto (1-Star Michelin) hailed as "the grandest and most expensive restaurant in New York" by the New York Times. During her time in Mexico City, Sofia was the head cook at Enrique Olvera's Pujol, which consistently ranked in the Top 15 in the World's 50 Best Restaurants list. Here in Italy, Sofia has been working as head chef at one of IWA Modena's favorite restaurants, Il Filatoio, and has recently moved to Torino to take on a new restaurant, Gastonomia(A)tipica. For Sofia, cooking is a passion and she virtually welcomes you into her own personal kitchen where she will teach you how to make a Mexican dish…or two!
More info an purchase option for just this course: Mexican Cooking Class by Chef Sofia Morales
Italian Cooking Class by Chef Luca Marchini: Friday, November 6, 2020 at 18.00
Luca Marchini is the Tuscan-Emilian chef behind the Michelin-starred restaurant, L'Erba del Re, located in Modena. He works through a continuous culinary evolution while also carrying on local gastronomic traditions, which is why he is distinguished for maintaining a delicate balancing act. His dishes are known for their balance between textures and flavors, with a combination rooted in respect and a "deep love for ingredients". His culinary language is straightforward and his recipes explore the influence of simplicity while implementing his technique to develop original creations.
L'Erba del Re is the place to be for giving your senses and palate the experience of a lifetime, all while dining in a comfortably intimate space that feels like your very own living room. An unobtrusive, yet attentive, dining service paints the scene for the kitchen and distinctive wine cellar's delicious gastronomic stories.
More info an purchase option for just this course: Italian Cooking Class by Chef Luca Marchini
International Cooking Class by Chef Jess Rosval: Sunday, November 15, 2020 at 18:00 on Zoom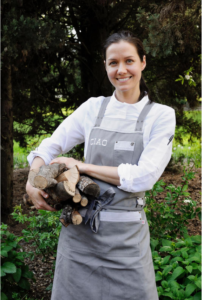 Jessica is a Canadian chef working in the restaurant industry since 2001. For the last five years she's distinguished herself as a chef at Massimo Bottura's Osteria Francescana as Chef de Parti and head of international events, and most recently as the Head Chef of Casa Maria Luigia. Jessica is also the co-founder and the culinary Director of the Association for the Integration of Women in Modena.
More info an purchase option for just this course: International Cooking Class by Chef Jess Rosval
Israeli Cooking Class by Chef David Shushan: Saturday, November 21, 2020 at 18:00 on Zoom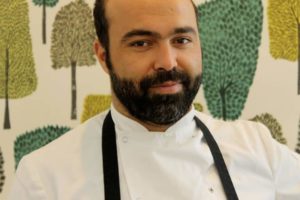 Born and raised in Jaffa, Israel to a family of Moroccan origins. In Tel Aviv David worked in many of the top and unique restaurants and took part of the on growing new Israeli cuisine. Since 2013 he lives in Italy where he worked with Chefs as Vittorio Fusari in Fraciacorta and collaborated with the local SlowFood branch in different restaurants and projects using the local materials in his own dishes.
More info an purchase option for just this course: Israeli Cooking Class by Chef David Shushan
You don't like cooking but want to help? Please do!
If you don't like online cooking courses, but want to help fight breast cancer right here in Modena, please consider making a donation instead. You can do so on our GoFundMe page.
Please also visit our dedicated website to find out about further fundraising opportunities and learn all the details about this new partnership between IWA Modena and Il Cesto di Ciliege: Together against Breast Cancer.
Keep following us on our social media channels to stay up to date on IWA Modena's events and initiatives: Facebook and Instagram.