Women for Women - Growing Together Campaign 2021
AIW is a non profit association founded in April 2020 with the mission to provide resources for women to establish roots and flourish. AIW believes that migrant women in our communities are assets and so do we.
Background and our Connection
Our slogan, ''Women for Women'' inspires us to engage with our Modenese Community and to continue to support women's associations. We are truly excited to kick off our new collaboration with the Association for the Integration of Women (AIW), an association whose principles are close to the hearts of IWAM members.
AIW is a non-profit association founded in April 2020 with the mission to provide resources for women to establish roots and flourish. AIW believes that migrant women in our communities are assets and as IWA Modena, we couldn't agree more.
The particular focus of the AIW is the economic integration of migrant women living in Modena and is doing that through programmes that build migrant women's Opportunity, Capacity, and Motivation, giving them the platform they need to show their potential. Every woman has her own story, different departure points, unique but also common challenges, but what we all have in common is that we are all women who want to call Modena home and who work hard to become who we truly want to be. In that spirit, we are truly looking forward to support AIW's women make their own roots!
IWA Modena has chosen AIW as its non-profit partner for 2021/2022 to help them maximize their impact and bring a new innovative model to Modena. This partnership consists of two parts:
Mobilizing IWA Modena members as volunteers who can provide their skills to benefit AIW's trainees, through the ''Skill Builders Programme". To find out more, read their blog post.
Launching the "Women for Women – Growing Together" campaign to raise awareness and funds for AIW's work. More specifically the campaign will support the launch of their new project, a one-of-a-kind, food-based social project, "ROOTS". #w4wgrowingtogether
In 2021, IWAM members participated in the "Skill Builders Program" a volunteer-leadership program by AIW with the aim to leverage the professional and life skills of women living in Modena for the benefit of its beneficiaries. Between May and August 2021, six IWAM volunteers provided workshops in English for AIW's graduates.
Topics included writing a CV, interview skills, communication skills and basic household budgeting courses were taught by IWAM members with the support of the AIW team. This program will be repeated each year; providing free, culturally competent, and accessible training to more than 16 women entering the workforce.
If you are interested in becoming a Skill Builder, you can register on AIW's website under the 'Join Our Team' section.
ROOTS will be a social restaurant in the heart of Modena with a two-fold objective:
1) offering holistic training to 16 migrant women each year, and at the same time;
2) creating a platform to showcase their skills and food culture, creating a more inclusive Modena through the power of food.
Online Silent Auction, September 2021
Alongside the Apericena evening fundraiser, we held a silent auction online. Items where shown on the night of the Apericena and bidding took place online. This allowed anyone who couldn't attend the event to still support the #W4WGrowingTogether campaign. On off were items, services and travel accommodation, donated by members and local businesses. The auction ran from 20th September to 29th September inclusive.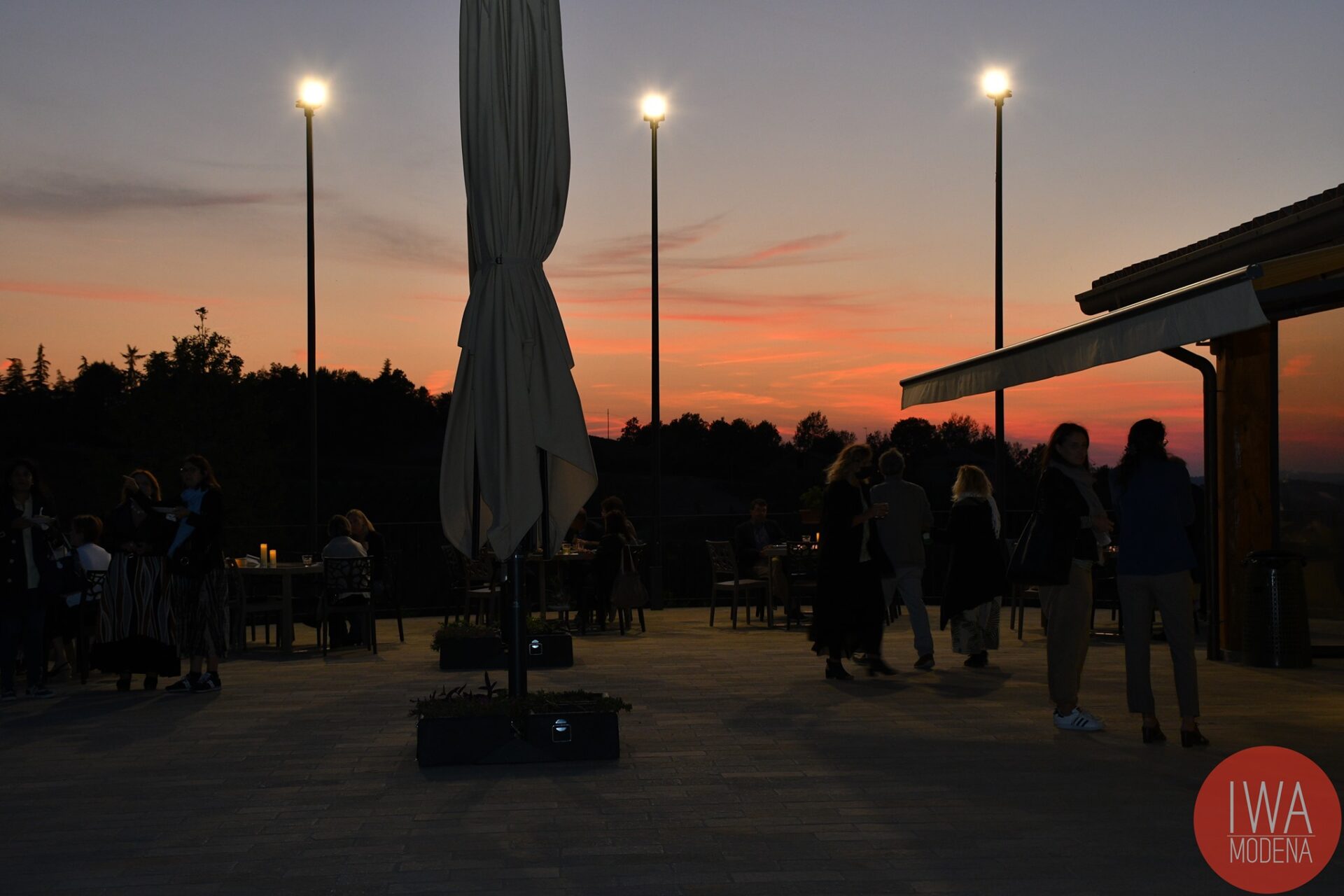 Apericena al Tramonto (at sunset), September 2021
We were honoured to have over 110 attendees that braved the cool fall air to enjoy a beautiful sunset in a lovely setting with great company to help us raise awareness and funds for the Association for the Integration of Women's project Roots, a multicultural and cosmopolitan space that trains Modena's new cooks and shares their food culture with the community. As well as a proportion of the ticket price that went towards the campaign, attendees also generously made donations on the GoFundMe page throughout the night.

The first of two walking tours arranged in collaboration with Modenatur and the local tourist guide association, Associazione Arianna APS, focused on the history of Modena. Approximately 20 people attended the event in which Francesca Soffici  and one of her guides, Stefania shared their knowledge of the city. To find out more about it and see photos taken of the city, please read the blog post here.
Thrift Market Stall, September 2021
One of our members and volunteers; Elisabetta, gathered donations from our IWA Modena members that could be sold at her thrift stand in Parco Amendola. She found other IWA Modena volunteers to help her sell the items. As a result of everybody's involvement and support, she was able to gather 175 Euros for AIW's Roots project! Afterwards, she also tried to sell the leftovers from the thrift market online. Here is what she had to say; "I would like to thank you all for all your contributions to (the) thrift market, for passing by to say hi. Especially to Nikol and Sofia, they were marvellous. We really felt part of something bigger; it's so special when you know you have such a great group behind you. An african proverb says "If you want to go fast, go alone, if you want to go far, go together", and yesterday we really saw that!!"
How our members support our community
The AIW Skill Builders Programme involved members offering their time to train the migrant women in key skills. To get involved in this programme, visit the AIW website under 'Join Our Team'.
How you can donate and give support
Donate: every contribution makes a difference and is much appreciated. To support the "Women For Women: Growing Together" #W4WGrowingTogether campaign you can donate here via our GoFundMe page.
We also occasionally run campaign fundraising events which you can of course join to show your support.
How you can get involved
Volunteer: behind our community engagement campaigns there is a team of wonderful volunteers with diverse skills and enthusiasm to support our local community and the associations we partner with.
If you are interested in being part of the team, please contact Quyen Ha our IWAM Engagement Director about how you can volunteer with the Community Engagement Team.