Autumn kicked off warm and bright for IWAM this year. On the first day of the season, a group of IWAM members were welcomed by the brilliant association; Porta Aperta, to help out for the day. In addition to other initiatives, the association serves food for those in need.
Our members split into two groups, and under the supervision of the skilled and enthusiastic chef Louis, one group took over the lunch shift, and the other, dinner.
Porta Aperta opened its doors (pun intended) to the public in 1978. Since then, with the help of volunteers and staff, the organization has been fighting economic and social inequality in areas where food injustice and medical inequity targets its residents most. Apart from warm meals, Porta Aperta offers shelter, medical aid, clothing, and legal aid to anyone seeking help in Modena.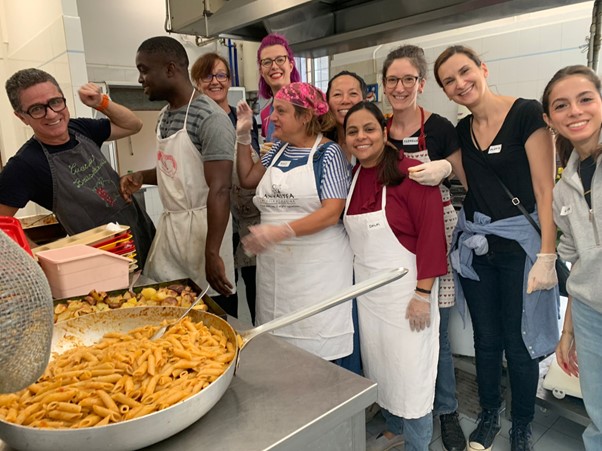 Chef Louis, who has been working with Porta Aperta for over twelve years, greeted our volunteer members. He explained and divided up tasks, and our members, aproned up, and were excited to dive into their assigned chores, often helping other groups with their tasks and switching posts, making sure the meals were ready to serve at 6:00pm sharp.
Louis, fluttered his way around the groups, ensuring everything was done impeccably, making jokes and livening up the atmosphere, his Italian adorned with an Igbo accent.
Dinner was a hit; pasta with fish cutlets, side salad, focaccia, and fruit. After the meals were served, the members helped clean up and wash up, and prepared the kitchen for the next shift the following morning. The volunteers then headed out into the crisp early autumn air, excited to share their experience with friends and family.
Porta Aperta kindly invited IWAM members to their 45th anniversary celebration that was held a few days later. Some of our members attended the event where, they not only met more volunteers and staff, they also learned about other volunteering opportunities, including subgroups which focus on activities like recycling, gardening, women's issues and children's education.
Porta Aperta receives volunteers on a daily basis. If you're interested in volunteering, please contact Sofia Rovatti for information on how to get started.
Or head to the Porta Aperta website. You can also find Porta Aperta on social media where they post regularly about upcoming events and volunteering opportunities on Facebook and Instagram.
The event was met with so much enthusiasm that several members have signed up to volunteer on a regular basis. If you know someone who would be interested in an opportunity to give back to the community, do pass the message along.
You can also find more information (in English) in the Guide for New Volunteers