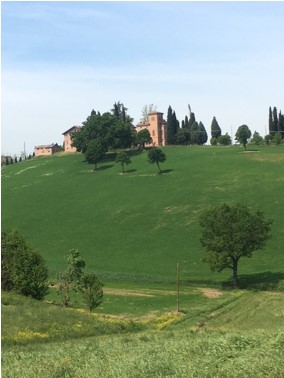 Calling all bikers! This week myself (Liz) and Nathalie cycled the Casinalbo-Maranello-Montale loop in the opposite direction to previous rides. A steady ride up to Maranello! Going through mostly cycle paths, we had a quick look at the Ferrari Track and then took a couple of 'walks' up the steep hills to admire the views above Parco Giardini Ferrari/Gorzano. From the top of the hills, we then headed to the River Tiepido trail to Montale which thankfully was more downhill!
We managed to do an incredible 30km in total; what a great way to get fit too! Time to get your bikes dusted off, have your brakes checked, and join us next time if you can! Come along and see the beautiful views for yourself.
Nathalie and Liz will plan rides as and when they are available. Please do use the chat to check if anyone local to you is free if there aren't any planned rides. Also, just ask if you need details on local rides that they have already completed. They now use Komoot, which is great for route planning. 
‍
️