Beyond the City Limits – Exploring our Amazing Backyard
I had the great fortune to grow up in a small town in Canada and have to say, looking back, I had an idyllic childhood. Every day I spent hours outside riding bikes, exploring farmers fields, "fishing" for leaves in the ditch or making hedge stew and mud pies. It didn't matter the weather, I was always outside. Winter provided the opportunity for creating snow forts, sledding, skating and building snowmen. Summer was filled with swimming, boating and camping. For me, nature + imagination = endless entertainment. That is how I want my son to feel as well. As such, from a very early age, my son was introduced to our nature loving lifestyle and I am proud to say I am definitely raising an outdoor child.
As an avid hiker and lover of the outdoors, I have been missing getting out and exploring over the past few years. Firstly, because my son got too heavy for his hiking backpack and his little legs weren't quite big enough to carry him too far. Then arrived the Covid restrictions which kept us all locked at home. When the restrictions were finally lifted and his little legs had grown strong we set out once again to explore what the majestic Apennine Mountains have to offer. This time, we had to find options that were kid friendly and I am happy to be able to share these with you. I hope you can convince your kids to put their electronics down, lace up their hiking boots, get a little dirty and learn to revel in the beauty of nature.
Hiking to The Devil's Bridge – What to Expect
An easy hike to start with is the Devil's Bridge or in Italian; Ponte d'Ercole/Ponte del Diavolo. This short 3km hike is suitable for children 3+ and has a nice wide walking path with very little elevation gain. The path is suitable and wide enough for a hiking stroller but I would not recommend trying it with a regular stroller. The trail is mostly hard packed sand with a few rocky sections. It winds its way through the forest before you arrive at the bridge. There are also many spots to take in the spectacular views along the way. When you reach the bridge there is a small area with a few picnic tables which is a great spot to stop for a snack or picnic lunch. Total walking time with my 6 year was an hour and twenty minutes (not including how many times he ran up and down the bridge or stopped to look at bugs).
Getting There
The trail is located between Pavullo and Lama Mocogno, just over an hour drive from Modena. There is a small parking lot and the trail starts right from the parking area.  See google map
Why is the bridge named after the Devil?
The Devil's bridge itself is one of the most mysterious natural elements of the Modena area.  It is not a man-made structure but rather a huge monolith due to its irregular shape and position in the middle of the mountain. The bridge is 3 meters high and 33 meters long, representing an inexplicable example of the development of nature. So much so, that the mountain farmers believed it was the work of the Devil.
According to legend, a farmer from the lower part of the mountain, who had to travel a long way every day to avoid a river, asked the Devil to build a bridge for him in exchange for his soul. After accepting, Satan headed to the top of the mountain to find a suitable bridge. Satan was slowly bringing the monolith down from the top of the mountain. But when he arrived at the place where it is today, he saw a witches' sabbath and was so absorbed by the music that he did not notice that dawn had arrived. Seeing the sun he had to flee, leaving the bridge there.
Be careful while you are there as the legend also says that putting your head in the hole found in one of the ends will recall the Devil who will behead you!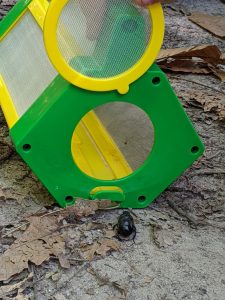 Quick Tip: Bring a magnifying glass or bug catching kit along as there is an abundance of insects and plants to discover to keep the kids interested along the way.
Read more and discover the IWA Modena, its members and its partners...