We want to tell you all about a brand new interest group: The IWAM Biking Group.
The cycling group was born at the end of October 2022 after an impromptu cycle ride of 2 of our members:  Nathalie and Liz. They wanted to help members of IWAM explore the beautiful countryside, towns and Modena area, and also to keep them fit and healthy.
Nathalie and Liz put together a riding plan that included familiar routes, suggested using cycle paths, quiet roads and avoiding busy traffic times. For every ride they provide details of the route, start point, meeting time and details about the routes. The aim is to meet up outdoors and enjoy our beautiful area as much as possible.  
Since that day in October, the group have already met for 3 rides and they shared the details of each and every one of them with us.
Our First Group Ride!‍️‍️‍️‍️ 27/10/22
 So, we did it! 5 group members Nathalie, Liz, Becky, Ana Maria and Sarah met up in Formigine for our first group ride.
The weather was perfect, we had some fun on the way…
The Highlights
Nathalie (in Sassuolo), Sarah (in Modena) and Becky (in Magreta) arrived at the start!
Photos of the group were taken by a 90 Year old cyclist!!  (Male….)
Nathalie and Liz pointing out fig trees….!
Ride through 'Ca Del Rio Resort', through the Cherry Orchard and Vineyard, with a pit stop at the farm shop
Cycling down the farm track (via Tonini) to Montale with another friendly older cyclist!!! (Male…)
Lots of chatting on the way (Becky)
Back to Formigine Castle for photos and snack lunch
9.8 miles or 15.8 kilometres in total (plus home to start point travel for some)
Sarah tested out the train link from Formigine to Modena…so easy!
 The Awards
Distance rider –

Nathalie

who travelled approximately 40km altogether from Sassoulo to the start and back!
Most sociable –

Becky

(chats a lot)
Best dressed – All the gear

Sarah

!
Most sociable with Older cyclists –

Ana Maria

Route Planner –

Liz

(someone had to do it…..)
 IWAM Bike Group Ride 1. Formigine-Montale-Formigine Castle | Komoot Tour Link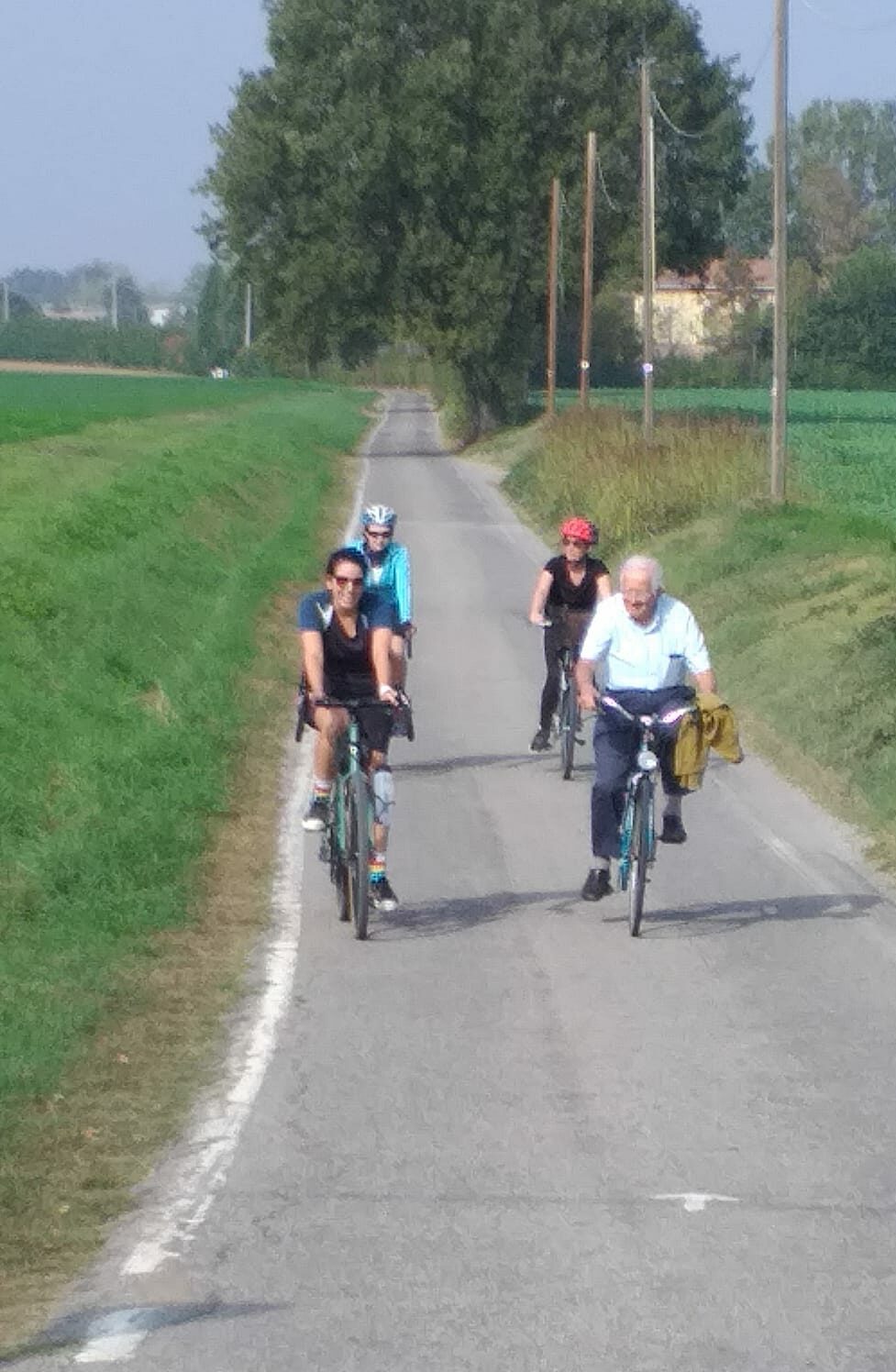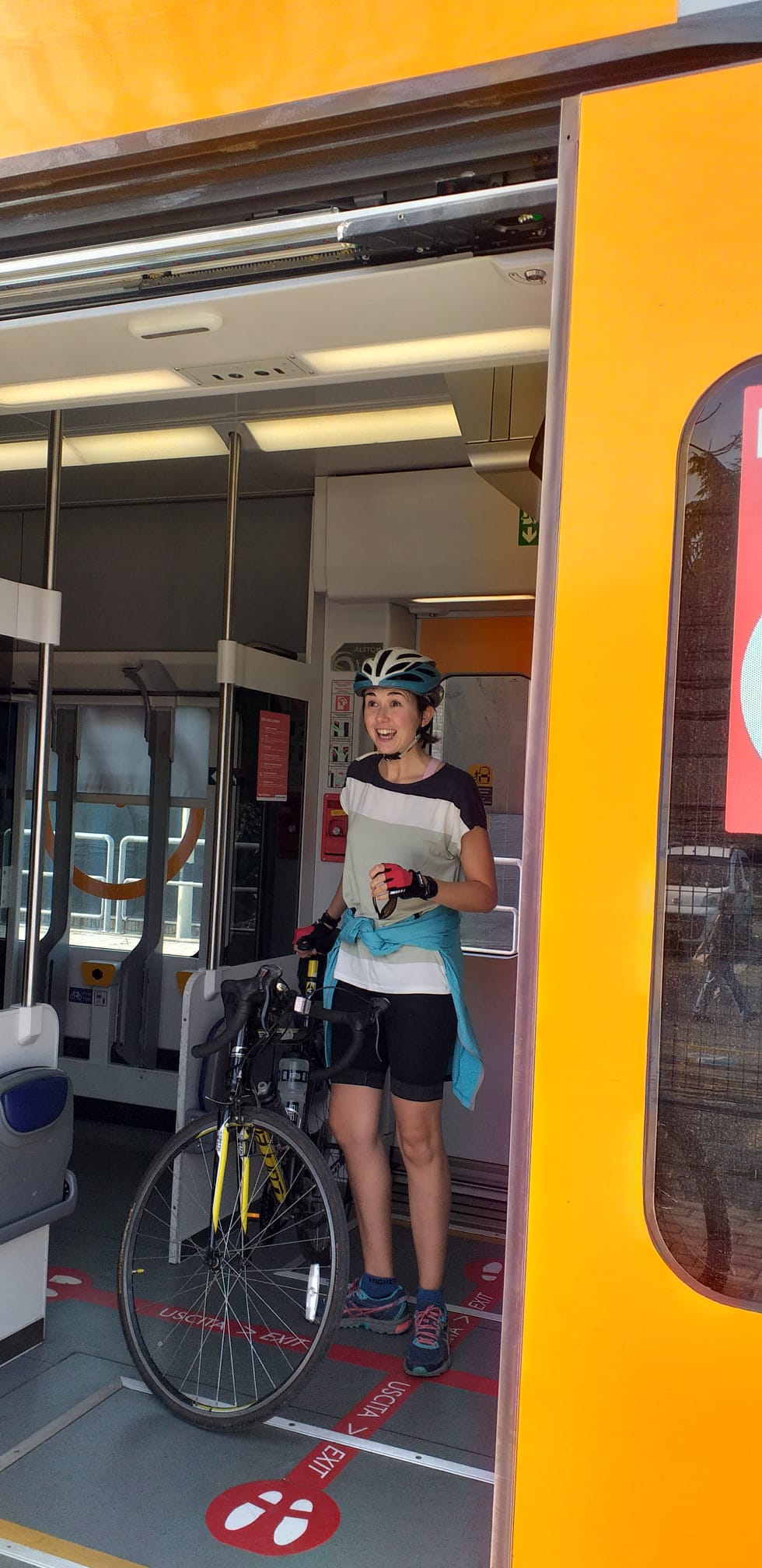 Bike Ride n. 2. ‍️‍️‍️‍️ 8/11/2022
Casinalbo – Magreta- Secchia River cycle track – Sassuolo Palazzo Ducale
Highlights
Liz rode from Casinalbo to Magreta then met Nathalie on the Secchia cycle track and cycled back to Sassoulo. They rode along the river on a brilliant track to some rocks and pools, then round the lovely park in the grounds of the Palazzo Ducale/ Peschiera Ducale and back through the Sassuolo market and back to Casinalbo.  A very flat route, with some gravel track on the river path.
IWAM Biking Group Ride 2 Casinalbo – Secchia – Palazzo Ducale Sassuolo | Komoot Tour Link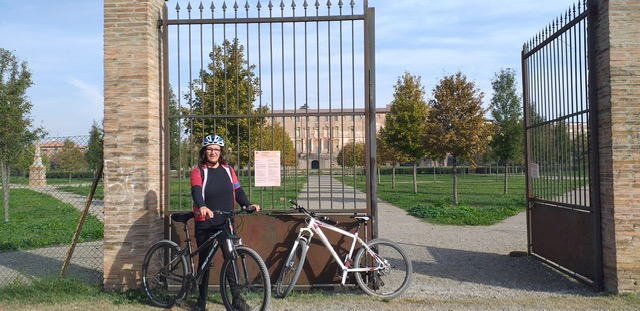 Bike Ride n. 3,️‍️‍️ 23/11/2022
Spezzano to Salse di Nirano and Castello di Spezzano
Just Liz today who rode to the start at the bridge in Spezzano from Casinalbo using cycle paths and quiet roads. There is a newly tarmacked track which runs adjacent to the via Nirano which was great (see video below). The weather was glorious today and some lovely views. A bit of hiking up the steep hills (still can't do them…! ) but very exhilarating on the way down. Rode up a hill to the Castello di Spezzano. It's signposted from the main road on the way back and then back through Formigine to Casinalbo. A lovely ride.
Bike Tour Spezzano to Salse di Nirano to Castello di Spezzano | Komoot Tour Link