New Board Initiative for 2022
For 2022, the new board decided to support the ever-growing number of interest groups in their social interactions. One way they chose to encourage them to be independent, was to provide €100 to each group for them to organise their own social events. They could spend the money on anything they decided would be appropriate. Discover what the IWAM interest group sponsored events included for 2022.
This initiative really got going quite late on in the year after the summer break had finished. Almost all of the groups were able to organise and hold their own events though which you'll see below. Take a look at how imaginative and varied they all are. If you're not currently in one of the many, many groups we have, please check out our Interest Groups page to see all that is on offer and to contact the leader directly.
October Events
A sneak peek of our Book Club Group gathering at Persepolis restaurant, where they discussed 'The Island of Missing Trees' by Elif Shafak. In their own words:
"It was a fun evening with fabulous company, yummy food and inspiring chats as always."
November Events
Our Walking/Hiking Group got in touch with a local guide; Stefano, from Oltre i Sentieri to enjoy a structured hike. He kindly offered to lead them on a hike from Serramazzoni to Monfestino. It took place one Wednesday morning and he shared interesting facts and stories about the history of the area. They even sampled some of the edible berries found along the trail.
The Creatives decided to have smaller events to engage as many of the members as possible when they were able. The first event was a brunch at Elio Park in Modena, following from the successful IWAM Welcome Back brunch. About two weeks later, the second event was an aperitif in Formigine. Both very small groups but always great company!
The Gardening Group met at the beautiful agriturismo Agriturismo Due Papaveri run by our member Charlotte. She was the perfect host showing them around her garden and property. Charlotte gave the group tips and tricks along the way that they can implement in their own gardens. She then walked them through two recipes using home-grown produce. The group had a lot of fun learning how to make delicious zucchini lasagne and a scrumptious apple cake which they enjoyed eating together while brainstorming their next events.
Big thanks to Charlotte for the hospitality and to the team leader Daniela (with support from team member Nathalie) for the organization!
A few of our Renovation Girls met for a stroll through Conforama followed by dinner at La Luna Rossa (both in Campogalliano). Sabrina organized this meeting so the members could talk about their various renovations projects and experiences. As usual, it was great how supportive the members are of each other and the small or big hiccups that are part of any renovations project.
December Events
Our Puppy Lovers had a great time with one of our Board member's and documentary photographer; Lavinia Nitu – Ma.Ni. Photo Studio on a photoshoot in the park. Lavinia made both humans and puppies alike feel at ease and captured some great shots. Check out a few of our favourite pictures below.
The Family Group organised the kids Christmas party as a scavenger hunt in Formigine at Villa Gandini Park on the 11th December. The kids were divided into teams and had to solve a series of Christmas themed clues to make their way through the park. To get their next clue, they either had to: answer a Christmas trivia question; sing a Christmas song; or decorate a Christmas tree. The final destination for all of the groups was the playground. This is where Santa was waiting with gifts for all of the kids (supplied by the parents). Everyone also had some snacks before heading home. A big thank you to Pam Merkley and Rebekah Chircop for their organisation of this wonderful end of year celebration!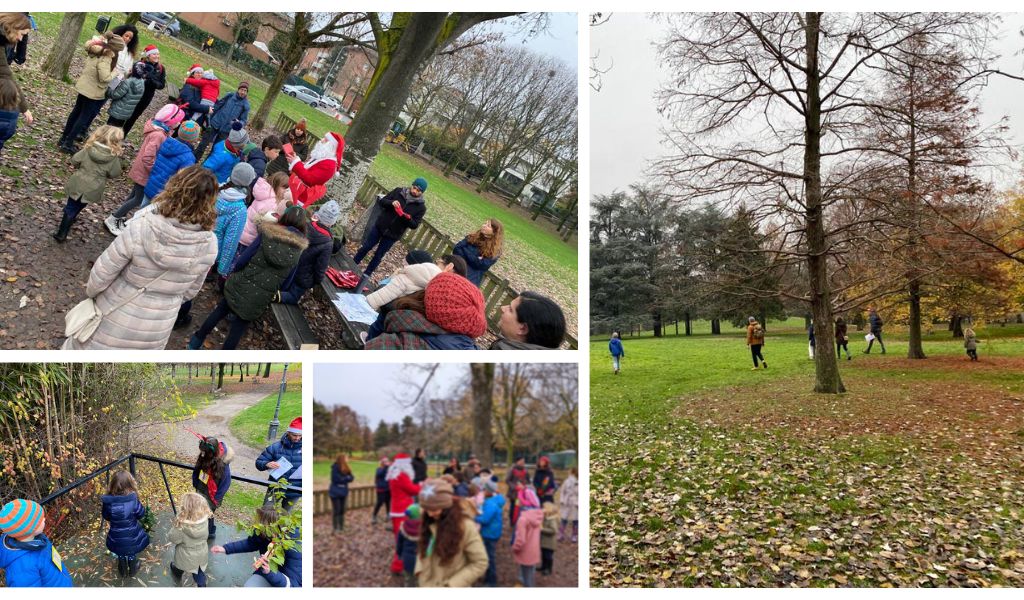 Our Business Table lunch was held on 14th December when some of the members met for a pre-holiday lunch at Amber in Modena. They used this time to catch up while informally exchanging some work stories and answering each other's work questions. Examples of these include "What exactly does your accountant provide?" "How do you balance life and work?" "How do you deal with data security concerns?" "Which cafés are great for co-working?". I think it's fair to say that the size of the group was quite considerable and the food looked rather special too!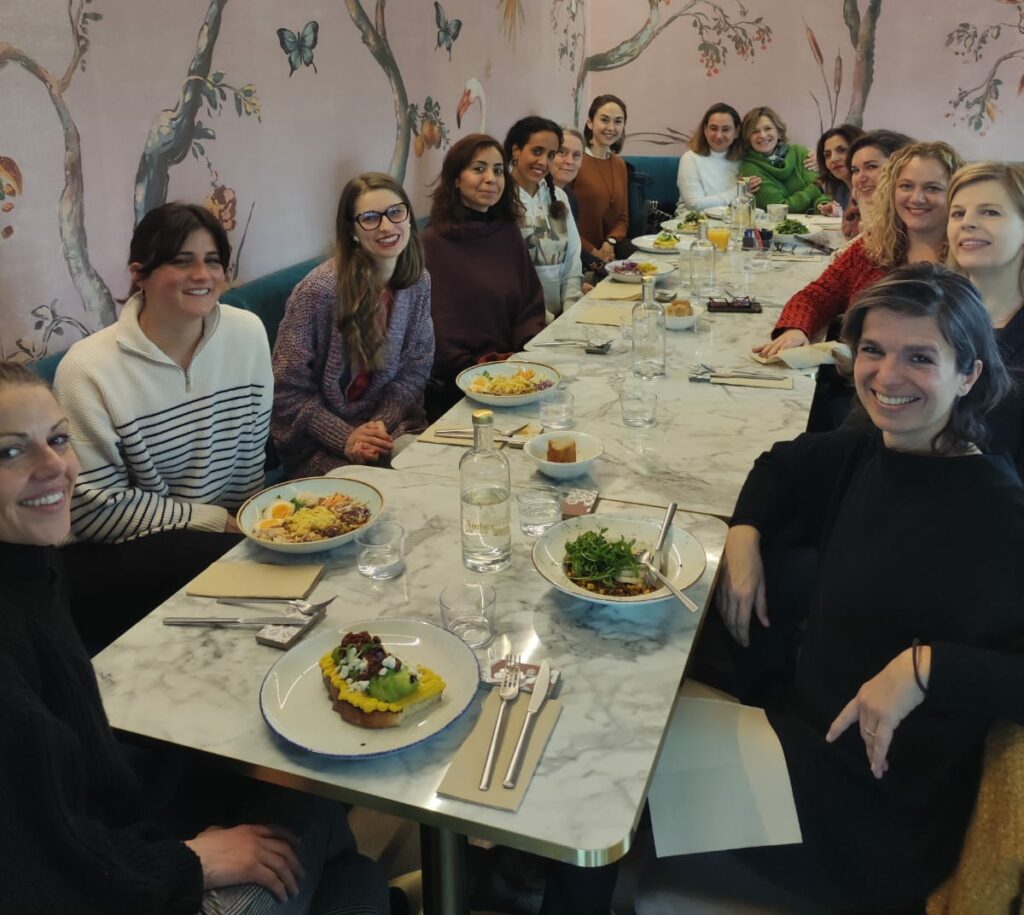 The final Creatives meet up was a practical event for a craft evening in Formigine on the 15th December. There was a range of activities going on including eating! Fimo clay, gold leaf, and crochet were among the materials and skills shared around the table in December. Not everyone was crafting, but everyone shared their knowledge and gained inspiration from each other while catching up in a relaxed environment.